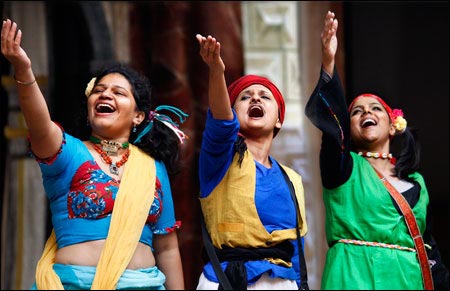 A Lady with a strong Punjabi accent and a suitor with a Bhojpuri twang. Can't be characters from a Shakespeare play, right? Well, you are gravely mistaken. Piya Behrupiya is the hindi adaptation of Shakespeare's "The Twelfth Night" with a twist. It is a colorful combination of vibrant songs and peculiar accents.A soliloquy aficionado, I have a habit of writing off large cast plays. But I was to be proven wrong very soon.


Separated from her twin brother Sebastian on the shores of Illyria, Viola disguises as Cesario and soon becomes the sole confidant of Duke Orsino. Viola is in love with Duke Orsino who is in love with Lady Olivia who in turn is in love with Cesario. Amidst the chaos and mistaken identities, is madness, laughter and frenzy. The merengue ends when Sebastian turns up in the end and Duke Orsino recognizes Viola's love for him.


More than the script, it is the screenplay and super fabulous performance of the actors that steals the show. My personal favourite is the petite Viola who is fire on the stage. Her distinct hindi accent gives a different appeal to the play. Lady Olivia with her peculiar Punjabi accent is another class act. Also, the music of the play bolsters the ethnic touch it wishes to achieve. The way the play has been given the native touch is commendable.


I cannot serve justice to this play here. This play needs to be lived through even if you cringe at the very name of going for a play.
"Deny thy India and refuse thy re-birth" – Shakespeare threatened God in his grave.